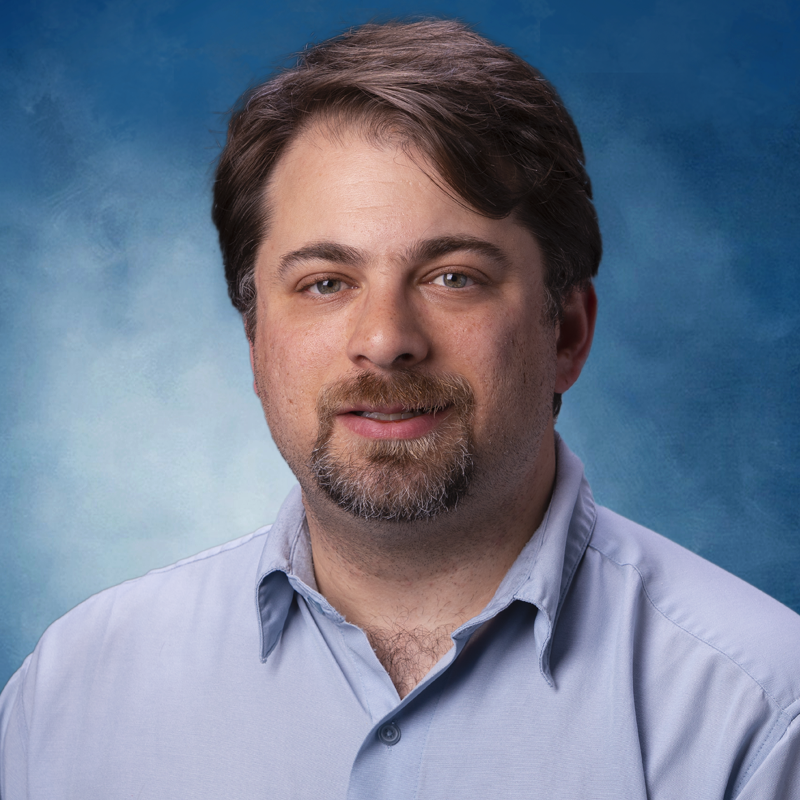 240-228-9133


James.Roberts@jhuapl.edu


: SES


: Planetary Geophysicist


: Planetary


No items found


| Degree | Field of Study | Year Attained | Institution Name |
| --- | --- | --- | --- |
| Ph.D. | Astrophysical, Planetary, and Atmospheric Sciences | 2006 | University of Colorado |
| M.S. | Astrophysical, Planetary, and Atmospheric Sciences | 2003 | University of Colorado |
| B.S. | Physics | 2001 | Virginia Polytechnic Institute and State University |
| B.S. | Geological Sciences | 2001 | Virginia Polytechnic Institute and State University |
My goal is to understand why the various planets and moons of the solar system look the way they do now, what they were like early in their history, and how they evolved to their present state.  I approach these questions this by modeling large-scale geodynamics of terrestrial planets and icy satellites.  I am primarily concerned with:
Sources of heat in planetary interiors, tidal dissipation, radioactive decay, and impacts.
Solid-state convection and the removal of heat from planetary interiors.
Surface features and mass anomalies generated by geodynamic processes, and their effect on planetary reorientation.
The relationship between the thermal and orbital evolution of planets and moons.
The models are developed with the goal of explaining specific surface observations of targeted planetary bodies (e.g. Mars or Enceladus), but with appropriate parameters can be applied to planetary bodies in general.
:
| Start Year | End Year | Description |
| --- | --- | --- |
| 2011 | Current | Senior Professional Staff, Planetary Exploration Group, Johns Hopkins University Applied Physics Lab |
| 2011 | Current | Adjunct Research Assistant Professor, Department of Geology, University of Maryland |
| 2010 | 2014 | Assistant Research Professor, Department of Earth and Planetary Science, Johns Hopkins University |
| 2008 | 2011 | Postdoctoral Fellow, Planetary Exploration Group, Johns Hopkins University Applied Physics Lab |
| 2006 | 2008 | Postdoctoral Scholar, Department of Earth and Planetary Science, University of California, Santa Cruz |
| 2008 | 2008 | Lecturer, Department of Earth and Planetary Science, University of California, Santa Cruz |
| Year | Description |
| --- | --- |
| 2014 - Present | Geological Society of America |
| 2012 - Present | Division of Planetary Sciences (affiliate) |
| 2009 - Present | Outer Planets Assessment Group |
| 2001 - Present | American Geophysical Union |
| 2011 | Editor's Citation for Excellence in Refereeing, American Geophysical Union |
| 2010 | Johns Hopkins University Applied Physics Laboratory Publication Award |
| 2004-2005 | "Best Should Teach" Silver Award, Graduate Teacher Program, University of Colorado |
| 2001-2003 | Supplemental Fellowships, Department of Astrophysics and Planetary Science, University of Colorado |
:
Barnouin, O.~S. and Daly, M.~G. and Palmer, E.~E. and Johnson, C.~L. and Gaskell, R.~W. and Al Asad, M. and Bierhaus, E.~B. and Craft, K.~L. and Ernst, C.~M. and Espiritu, R.~C. and Nair, H. and Neumann, G.~A. and Nguyen, L. and Nolan, M.~C. and Mazarico, E. and Perry, M.~E. and Philpott, L.~C. and Roberts, J.~H. and Steele, R.~J. and Seabrook, J. and Susorney, H.~C.~M. and Weirich, J.~R. and Lauretta, D.~S., (2020), Digital terrain mapping by the OSIRIS-REx mission, planss, 180, 104764
Barnouin, O.~S. and Daly, M.~G. and Palmer, E.~E. and Gaskell, R.~W. and Weirich, J.~R. and Johnson, C.~L. and Al Asad, M.~M. and Roberts, J.~H. and Perry, M.~E. and Susorney, H.~C.~M. and Daly, R.~T. and Bierhaus, E.~B. and Seabrook, J.~A. and Espiritu, R.~C. and Nair, A.~H. and Nguyen, L. and Neumann, G.~A. and Ernst, C.~M. and Boynton, W.~V. and Nolan, M.~C. and Adam, C.~D. and Moreau, M.~C. and Rizk, B. and Drouet D'Aubigny, C.~Y. and Jawin, E.~R. and Walsh, K.~J. and Michel, P. and Schwartz, S.~R. and Ballouz, R. -L. and Mazarico, E.~M. and Scheeres, D.~J. and McMahon, J.~W. and Bottke, W.~F. and Sugita, S. and Hirata, N. and Hirata, N. and Watanabe, S. -I. and Burke, K.~N. and Dellagiustina, D.~N. and Bennett, C.~A. and Lauretta, D.~S. and Osiris-Rex Team, (2019), Shape of (101955) Bennu indicative of a rubble pile with internal stiffness, Nature Geoscience, 12, 4, 247-252
Stickle, Angela M. and Roberts, James H., (2018), Modeling an exogenic origin for the equatorial ridge on Iapetus, icarus, 307, 197-206
Roberts, J.~H. and Arkani-Hamed, J., (2017), Effects of basin-forming impacts on the thermal evolution and magnetic field of Mars, Earth and Planetary Science Letters, 478, 192-202
Nimmo, Francis and Umurhan, Orkan and Lisse, Carey M. and Bierson, Carver J. and Lauer, Tod R. and Buie, Marc W. and Throop, Henry B. and Kammer, Josh A. and Roberts, James H. and McKinnon, William B. and Zangari, Amanda M. and Moore, Jeffrey M. and Stern, S. Alan and Young, Leslie A. and Weaver, Harold A. and Olkin, Cathy B. and Ennico, Kim, (2017), Mean radius and shape of Pluto and Charon from New Horizons images, icarus, 287, 12-29
William B. McKinnon, Francis Nimmo, Teresa Wong, Paul M. Schenk, Oliver L. White, J. H. Roberts, J. M. Moore, J. R. Spencer, A. D. Howard, O. M. Umurhan, S. A. Stern, H. A. Weaver, C. B. Olkin, L. A. Young, K. E. Smith, New Horizons Geology Geophys, (2016), Convection in a volatile nitrogen-ice-rich layer drives Pluto's geological vigour, Nature, 534, 7605, 82-+
William B. McKinnon, Francis Nimmo, Teresa Wong, Paul M. Schenk, Oliver L. White, J. H. Roberts, J. M. Moore, J. R. Spencer, A. D. Howard, O. M. Umurhan, S. A. Stern, H. A. Weaver, C. B. Olkin, L. A. Young, K. E. Smith, (2016), Convection in a volatile nitrogen-ice-rich layer drives Pluto's geological vigour (vol 534, pg 82, 2016), Nature
James H. Roberts, (2015), The fluffy core of Enceladus, Icarus, 258, 54-66
Mark E. Perry, Gregory A. Neumann, Roger J. Phillips, Olivier S. Barnouin, Carolyn M. Ernst, Daniel S. Kahan, Sean C. Solomon, Maria T. Zuber, David E. Smith, Steven A. Hauck, Stanton J. Peale, Jean-Luc Margot, Erwan Mazarico, Catherine L. Johnson, Robert W. Gaskell, James H. Roberts, Ralph L. McNutt, Juergen Oberst, (2015), The low-degree shape of Mercury, Geophysical Research Letters, 42, 17, 6951-6958
S. A. Stern, F. Bagenal, K. Ennico, G. R. Gladstone, W. M. Grundy, W. B. McKinnon, J. M. Moore, C. B. Olkin, J. R. Spencer, H. A. Weaver, L. A. Young, T. Andert, J. Andrews, M. Banks, B. Bauer, J. Bauman, O. S. Barnouin, P. Bedini, K. Beisser, R. A. Beyer, S. Bhaskaran, R. P. Binzel, E. Birath, M. Bird, D. J. Bogan, A. Bowman, V. J. Bray, M. Brozovic, C. Bryan, M. R. Buckley, M. W. Buie, B. J. Buratti, S. S. Bushman, A. Calloway, B. Carcich, A. F. Cheng, S. Conard, C. A. Conrad, J. C. Cook, D. P. Cruikshank, O. S. Custodio, C. M. Dalle Ore, C. Deboy, Z. J. B. Dischner, P. Dumont, A. M. Earle, H. A. Elliott, J. Ercol, C. M. Ernst, T. Finley, S. H. Flanigan, G. Fountain, M. J. Freeze, T. Greathouse, J. L. Green, Y. Guo, M. Hahn, D. P. Hamilton, S. A. Hamilton, J. Hanley, A. Harch, H. M. Hart, C. B. Hersman, A. Hill, M. E. Hill, D. P. Hinson, M. E. Holdridge, M. Horanyi, A. D. Howard, C. J. A. Howett, C. Jackman, R. A. Jacobson, D. E. Jennings, J. A. Kammer, H. K. Kang, D. E. Kaufmann, P. Kollmann, S. M. Krimigis, D. Kusnierkiewicz, T. R. Lauer, J. E. Lee, K. L. Lindstrom, I. R. Linscott, C. M. Lisse, A. W. Lunsford, V. A. Mallder, N. Martin, D. J. McComas, R. L. McNutt, D. Mehoke, T. Mehoke, E. D. Melin, M. Mutchler, D. Nelson, F. Nimmo, J. I. Nunez, A. Ocampo, W. M. Owen, M. Paetzold, B. Page, A. H. Parker, J. W. Parker, F. Pelletier, J. Peterson, N. Pinkine, M. Piquette, S. B. Porter, S. Protopapa, J. Redfern, H. J. Reitsema, D. C. Reuter, J. H. Roberts, S. J. Robbins, G. Rogers, D. Rose, K. Runyon, K. D. Retherford, M. G. Ryschkewitsch, P. Schenk, E. Schindhelm, B. Sepan, M. K. Showalter, K. N. Singer, M. Soluri, D. Stanbridge, A. J. Steffl, D. F. Strobel, T. Stryk, M. E. Summers, J. R. Szalay, M. Tapley, A. Taylor, H. Taylor, H. B. Throop, C. C. C. Tsang, G. L. Tyler, O. M. Umurhan, A. J. Verbiscer, M. H. Versteeg, M. Vincent, R. Webber, S. Weidner, G. E. Weigle, O. L. White, K. Whittenburg, B. G. Williams, K. Williams, S. Williams, W. W. Woods, A. M. Zangari, E. Zirnstein, (2015), The Pluto system: Initial results from its exploration by New Horizons, Science, 350, 6258, 292-+
W. Kuang, W. Jiang, J. Roberts, H. V. Frey, (2014), Could giant basin-forming impacts have killed Martian dynamo?, Geophysical Research Letters, 41, 22, 8006-8012
James H. Roberts, Jafar Arkani-Hamed, (2014), Impact heating and coupled core cooling and mantle dynamics on Mars, Journal of Geophysical Research-Planets, 119, 4, 729-744
James H. Roberts, Olivier S. Barnouin, Eliezer G. Kahn, Louise M. Prockter, (2014), Observational bias and the apparent distribution of ponds on Eros, Icarus, 241, 160-164
James H. Roberts, Eliezer G. Kahn, Olivier S. Barnouin, Carolyn M. Ernst, Louise M. Prockter, Robert W. Gaskell, (2014), Origin and flatness of ponds on asteroid 433 Eros, Meteoritics & Planetary Science, 49, 10, 1735-1748
J. Besserer, F. Nimmo, J. H. Roberts, R. T. Pappalardo, (2013), Convection-driven compaction as a possible origin of Enceladus's long wavelength topography, Journal of Geophysical Research-Planets, 118, 5, 908-915
S. Quere, J. P. Lowman, J. Arkani-Hamed, J. H. Roberts, R. Moucha, (2013), Subcontinental sinking slab remnants in a spherical geometry mantle model, Journal of Geophysical Research-Solid Earth, 118, 4, 1760-1777
Nathalie C. Michel, Steven A. Hauck, Sean C. Solomon, Roger J. Phillips, James H. Roberts, Maria T. Zuber, (2013), Thermal evolution of Mercury as constrained by MESSENGER observations, Journal of Geophysical Research-Planets, 118, 5, 1033-1044
James H. Roberts, Jafar Arkani-Hamed, (2012), Impact-induced mantle dynamics on Mars, Icarus, 218, 1, 278-289
Jodi Gaeman, Saswata Hier-Majumder, James H. Roberts, (2012), Sustainability of a subsurface ocean within Triton's interior, Icarus, 220, 2, 339-347
James H. Roberts, Olivier S. Barnouin, (2012), The effect of the Caloris impact on the mantle dynamics and volcanism of Mercury, Journal of Geophysical Research-Planets, 117
Guillaume Robuchon, Francis Nimmo, James Roberts, Michelle Kirchoff, (2011), Impact basin relaxation at Iapetus, Icarus, 214, 1, 82-90
Carolyn M. Ernst, Scott L. Murchie, Olivier S. Barnouin, Mark S. Robinson, Brett W. Denevi, David T. Blewett, James W. Head, Noam R. Izenberg, Sean C. Solomon, James H. Roberts, (2010), Exposure of spectrally distinct material by impact craters on Mercury: Implications for global stratigraphy, Icarus, 209, 1, 210-223
J. H. Roberts, R. J. Lillis, M. Manga, (2009), Giant impacts on early Mars and the cessation of the Martian dynamo, Journal of Geophysical Research-Planets, 114
J. H. Roberts, F. Nimmo, (2008), Near-surface heating on Enceladus and the south polar thermal anomaly, Geophysical Research Letters, 35, 9
James H. Roberts, Francis Nimmo, (2008), Tidal heating and the long-term stability of a subsurface ocean on Enceladus, Icarus, 194, 2, 675-689
Shijie Zhong, Nan Zhang, Zheng-Xiang Li, James H. Roberts, (2007), Supercontinent cycles, true polar wander, and very long-wavelength mantle convection, Earth and Planetary Science Letters, 261, 3-4, 551-564
James H. Roberts, Shijie Zhong, (2007), The cause for the north-south orientation of the crustal dichotomy and the equatorial location of Tharsis on Mars, Icarus, 190, 1, 24-31
JH Roberts, SJ Zhong, (2006), Degree-1 convection in the Martian mantle and the origin of the hemispheric dichotomy, Journal of Geophysical Research-Planets, 111, E6
JH Roberts, SJ Zhong, (2004), Plume-induced topography and geoid anomalies and their implications for the Tharsis rise on Mars, Journal of Geophysical Research-Planets, 109, E3
SJ Zhong, JH Roberts, (2003), On the support of the Tharsis Rise on Mars, Earth and Planetary Science Letters, 214, 1-2, 1-9