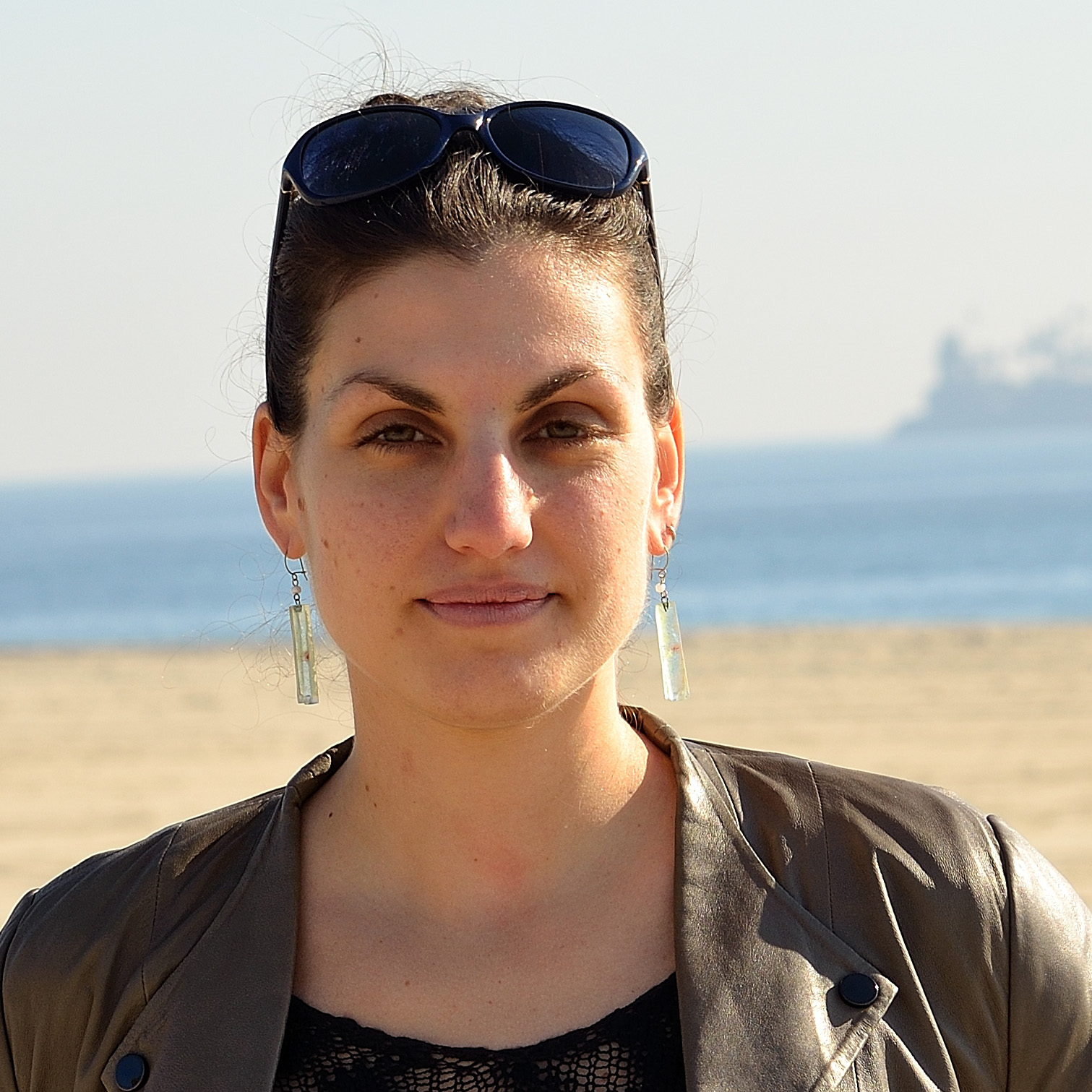 240-228-9112


Malamati.Gkioulidou@jhuapl.edu


: SES


: Space Physicist


: Heliophysics


JUICE, JENI, Van Allen Probes, RBSPICE, Mission Only


| Degree | Field of Study | Year Attained | Institution Name |
| --- | --- | --- | --- |
| Ph.D. | Space Physics | 2012 | Atmospheric and Oceanic Sciences, University of California, Los Angeles (UCLA) |
| M.S. | Space Physics | 2008 | Atmospheric and Oceanic Sciences, University of California, Los Angeles (UCLA) |
| B.Sc. | Physics | 2006 | Aristotle University of Thessaloniki |
JHU/APL
POSTDOCTORAL RESEARCH ASSOCIATE                                                                                                                 2012 - 2014
SENIOR PROFESSIONAL STAFF                                                                                                                                  2014 - present
SECTION SUPERVISOR (MAGNETOSPHERIC ELECTRODYNAMICS)                                                                      2018 - present 
Deputy Lead for the IMAP-Ultra Energetic Neutral Atom (ENA) camera of the Interstellar Mapping and Acceleration Probe (IMAP) mission. 
Co-I of the Van Allen Probes/RBSPICE instrument and member of the Van Allen Probes Project science team.
Developed and implemented algorithms for the calculation and calibration of data products for the two RBSPICE instruments aboard the Van Allen Probes.
Performed extensive data analysis of measurements from multiple satellites in the Earth's magnetosphere (Van Allen Probes, THEMIS, GOES, LANL), as well as ground-based facilities (SuperMAG magnetometer network) with focus on inner magnetosphere dynamics during storm time activity.
UCLA/Atmospheric and Oceanic Sciences Department
GRADUATE STUDENT RESEARCH ASSISTANT                                                                                                          2006 - 2012
Coupled and integrated a force-balanced magnetic field solver to the Rice Convection Model (RCM), in order to self-consistently calculate magnetic field changes according to plasma pressures in the plasma sheet and inner magnetosphere.
Incorporated plasma density and temperature profiles, based on statistical observations in the plasma sheet, to the outer boundary of RCM.
Incorporated electron loss rates derived from an empirical model to RCM, resulting in more realistic ionospheric conductance, which significantly affects the Magnetosphere - Ionosphere coupling.
| AGU Index Category | AGU Index Sub-Category |
| --- | --- |
| MAGNETOSPHERIC PHYSICS | Magnetosphere: inner |
| MAGNETOSPHERIC PHYSICS | Ring current |
| MAGNETOSPHERIC PHYSICS | Plasma sheet |
| MAGNETOSPHERIC PHYSICS | Magnetosphere/ionosphere interactions |
| SPACE PLASMA PHYSICS | Charged particle motion and acceleration |
| SPACE PLASMA PHYSICS | Plasma energization |
| SPACE PLASMA PHYSICS | Instruments and techniques |
| SPACE WEATHER | Magnetic storms |
:
| Start Year | End Year | Description |
| --- | --- | --- |
| 2018 | Current | Section Supervisor (Magnetospheric Electrodynamics ), JHU/APL. |
| 2014 | Current | Senior Research Scientist, JHU/APL. |
| 2015 | Current | Instructor for graduate level Plasma Physics (615.753), Whiting School of Engineering/ Engineering for Professionals, JHU. Duties: Design a syllabus, prepare lectures, teaching, creating and grading homework assignments and exams (https://apps.ep.jhu.edu/course-homepages/3530-615.753-plasma-physics-gkioulidou) |
| 2012 | 2014 | Postdoctoral Fellow, JHU/APL. |
| 2010 | 2010 | Teaching Assistant, UCLA. |
| 2006 | 2012 | Graduate Student Research Assistant, UCLA. |
| Start Year | End Year | Description |
| --- | --- | --- |
| 2017 | 2021 | Co-chair of the "Magnetotail Dipolarization and its Effects on the Inner Magnetosphere" Focus Group of the NSF Geospace Environment Modeling (GEM) Workshop |
| 2014 | Current | Session convener at multiple AGU meetings |
| 2013 | Current | Session organizer for multiple Van Allen Probes Science Working Group meetings. |
| 2017 | Current | Topical Editor for Annales Geophysicae (ANGEO) Journal. |
| 2013 | Current | Reviewer (panel and mail-in) of a number of proposals for National Aeronautics and Space Administration (NASA) and National Science Foundation (NSF) program. |
| 2011 | Current | Reviewer for Journal of Geophysical Research (JGR), Geophysical Research Letters (GRL), Journal of Atmospheric and Solar-Terrestrial Physics (JASTP), Space Science Reviews, and AGU books. |
| 2012 | Current | Judge, Outstanding Student Presentation Award, American Geophysical Union. |
| 2007 | Current | Member of American Geophysical Union (AGU). |
| Year | Description |
| --- | --- |
| 2018 | Member of NASA's Living With a Star (LWS) Program Assessment Group (LPAG) |
| 2015 | Elected Member, NSF Geospace Environment Modeling (GEM) Science Steering Committee, to serve as Magnetotail and Plasma Sheet Research Area Coordinator |
| 2015 | Publication award: Author's First APL Paper in Peer-Reviewed Journal, jHU/APL |
| 2015 | Invited participant of the International Space Science Institute (ISSI) workshop on "Understanding energetic particle injections and their effect on Earth's outer radiation belt electrons using multipoint observations" |
| 2011 | Bjerknes Memorial Award for academic excellence, Atmospheric and Oceanic Sciences Department, UCLA |
| 2009 - 2012 | NASA Earth and Space Science Fellowship (NESSF) |
| 2006 | Dorothy Radcliffe Dee Fellowship, Physical Sciences Division, College of Letters and Science, UCLA |
| 2001 | Scholarship award, Greek State Scholarship Foundation |
:
Keika, Kunihiro, Seki, Kanako, Nose, Masahito, Miyoshi, Yoshizumi, Lanzerotti, Louis J., Mitchell, Donald G., Gkioulidou, Matina, Manweiler, Jerry W., (2018), Three-Step Buildup of the 17 March 2015 Storm Ring Current: Implication for the Cause of the Unexpected Storm Intensification, Journal of Geophysical Research-Space Physics, 123, 414-428
Mitani, K., Seki, K., Keika, K., Gkioulidou, M., Lanzerotti, L. J., Mitchell, D. G., Kletzing, C. A., (2018), Radial Transport of Higher-Energy Oxygen Ions Into the Deep Inner Magnetosphere Observed by Van Allen Probes, Geophysical Research Letters, 45, 4534-4541
Wang, Chih-Ping, Gkioulidou, Matina, Lyons, Larry R., Wolf, Richard A., (2018), Spatial Distribution of Plasma Sheet Entropy Reduction Caused by a Plasma Bubble: Rice Convection Model Simulations, Journal of Geophysical Research-Space Physics, 123, 3380-3397
McComas, D. J., Christian, E. R., Schwadron, N. A., Fox, N., Westlake, J., Allegrini, F., Baker, D. N., Biesecker, D., Bzowski, M., Clark, G., Cohen, C. M. S., Cohen, I., Dayeh, M. A., Decker, R., de Nolfo, G. A., Desai, M. I., Ebert, R. W., Elliott, H. A., Fahr, H., Frisch, P. C., Funsten, H. O., Fuselier, S. A., Galli, A., Galvin, A. B., Giacalone, J., Gkioulidou, M., Guo, F., Horanyi, M., Isenberg, P., Janzen, P., Kistler, L. M., Korreck, K., Kubiak, M. A., Kucharek, H., Larsen, B. A., Leske, R. A., Lugaz, N., Luhmann, J., Matthaeus, W., Mitchell, D., Moebius, E., Ogasawara, K., Reisenfeld, D. B., Richardson, J. D., Russell, C. T., Sokol, J. M., Spence, H. E., Skoug, R., Sternovsky, Z., Swaczyna, P., Szalay, J. R., Tokumaru, M., Wiedenbeck, M. E., Wurz, P., Zank, G. P., Zirnstein, E. J., (2018), Interstellar Mapping and Acceleration Probe (IMAP): A New NASA Mission, Space Science Reviews, 214
Mitchell, D. G., Gkioulidou, M., Ukhorskiy, A. Y., (2018), Energetic Ion Injections Inside Geosynchronous Orbit: Convection- and Drift-Dominated, Charge-Dependent Adiabatic Energization (W=qEd), Journal of Geophysical Research-Space Physics, 123, 6360-6382
Motoba, T., Ohtani, S., Gkioulidou, M., Ukhorskiy, A. Y., Mitchell, D. G., Takahashi, K., Lanzerotti, L. J., Kletzing, C. A., Spence, H. E., Wygant, J. R., (2018), Response of Different Ion Species to Local Magnetic Dipolarization Inside Geosynchronous Orbit, Journal of Geophysical Research-Space Physics, 123, 5420-5434
Ohtani, S., Uozumi, T., (2018), Nightside Magnetosphere-Ionosphere Current Circuit: Implications for Auroral Streamers and Pi2 Pulsations, Journal of Geophysical Research-Space Physics, 123, 350-363
Sandhu, J. K., Rae, I. J., Freeman, M. P., Forsyth, C., Gkioulidou, M., Reeves, G. D., Spence, H. E., Jackman, C. M., Lam, M. M., (2018), Energization of the Ring Current by Substorms, Journal of Geophysical Research-Space Physics, 123, 8131-8148
Shumko, Mykhaylo, Turner, Drew L., O'Brien, T. P., Claudepierre, Seth G., Sample, John, Hartley, D. P., Fennel, Joseph, Blake, J. Bernard, Gkioulidou, Matina, Mitchell, Donald G., (2018), Evidence of Microbursts Observed Near the Equatorial Plane in the Outer Van Allen Radiation Belt, Geophysical Research Letters, 45, 8044-8053
Ukhorskiy, A. Y., Sorathia, K. A., Merkin, V. G., Sitnov, M. I., Mitchell, D. G., Gkioulidou, M., (2018), Ion Trapping and Acceleration at Dipolarization Fronts: High-Resolution MHD and Test-Particle Simulations, Journal of Geophysical Research-Space Physics, 123, 5580-5589
Yue, Chao, Bortnik, Jacob, Li, Wen, Ma, Qianli, Gkioulidou, Matina, Reeves, Geoffrey D., Wang, Chih-Ping, Thorne, Richard M., Lui, Anthony T. Y., Gerrard, Andrew J., Spence, Harlan E., Mitchell, Donald G., (2018), The Composition of Plasma inside Geostationary Orbit Based on Van Allen Probes Observations, Journal of Geophysical Research-Space Physics, 123, 6478-6493
Menz, A. M., Kistler, L. M., Mouikis, C. G., Spence, H. E., Skoug, R. M., Funsten, H. O., Larsen, B. A., Mitchell, D. G., Gkioulidou, M., (2017), The role of convection in the buildup of the ring current pressure during the 17 March 2013 storm, Journal of Geophysical Research-Space Physics, 122, 475-492
Turner, D. L., O'Brien, T. P., Fennell, J. F., Claudepierre, S. G., Blake, J. B., Jaynes, A. N., Baker, D. N., Kanekal, S., Gkioulidou, M., Henderson, M. G., Reeves, G. D., (2017), Investigating the source of near-relativistic and relativistic electrons in Earth's inner radiation belt, Journal of Geophysical Research-Space Physics, 122, 695-710
Ukhorskiy, A. Y., Sitnov, M. I., Merkin, V. G., Gkioulidou, M., Mitchell, D. G., (2017), Ion acceleration at dipolarization fronts in the inner magnetosphere, Journal of Geophysical Research-Space Physics, 122, 3040-3054
Turner, D. L., Fennell, J. F., Blake, J. B., Claudepierre, S. G., Clemmons, J. H., Jaynes, A. N., Leonard, T., Baker, D. N., Cohen, I. J., Gkioulidou, M., Ukhorskiy, A. Y., Mauk, B. H., Gabrielse, C., Angelopoulos, V., Strangeway, R. J., Kletzing, C. A., Le Contel, O., Spence, H. E., Torbert, R. B., Burch, J. L., Reeves, G. D., (2017), Multipoint Observations of Energetic Particle Injections and Substorm Activity During a Conjunction Between Magnetospheric Multiscale (MMS) and Van Allen Probes, Journal of Geophysical Research-Space Physics, 122, 11481-11504
Yue, Chao, Bortnik, Jacob, Thorne, Richard M., Ma, Qianli, An, Xin, Chappell, C. R., Gerrard, Andrew J., Lanzerotti, Louis J., Shi, Quanqi, Reeves, Geoffrey D., Spence, Harlan E., Mitchell, Donald G., Gkioulidou, Matina, Kletzing, Craig A., (2017), The Characteristic Pitch Angle Distributions of 1 eV to 600 keV Protons Near the Equator Based On Van Allen Probes Observations, Journal of Geophysical Research-Space Physics, 122, 9464-9473
Gkioulidou, Matina, Ukhorskiy, A. Y., Mitchell, D. G., Lanzerotti, L. J., (2016), Storm time dynamics of ring current protons: Implications for the long-term energy budget in the inner magnetosphere, Geophysical Research Letters, 43, 4736-4744
Kistler, L. M., Mouikis, C. G., Spence, H. E., Menz, A. M., Skoug, R. M., Funsten, H. O., Larsen, B. A., Mitchell, D. G., Gkioulidou, M., Wygant, J. R., Lanzerotti, L. J., (2016), The source of O+ in the storm time ring current, Journal of Geophysical Research-Space Physics, 121, 5333-5349
Lyons, L. R., Gallardo-Lacourt, B., Zou, S., Weygand, J. M., Nishimura, Y., Li, W., Gkioulidou, M., Angelopoulos, V., Donovan, E. F., Ruohoniemi, J. M., Anderson, B. J., Shepherd, S. G., Nishitani, N., (2016), The 17 March 2013 storm: Synergy of observations related to electric field modes and their ionospheric and magnetospheric Effects, Journal of Geophysical Research-Space Physics, 121, 10880-10897
Ohtani, Shinichi, Gkioulidou, Matina, Wang, Chih-Ping, Wolf, Richard A., (2016), The Harang reversal and the interchange stability of the magnetotail, Journal of Geophysical Research-Space Physics, 121, 3278-3292
Engebretson, M. J., Posch, J. L., Wygant, J. R., Kletzing, C. A., Lessard, M. R., Huang, C. -L., Spence, H. E., Smith, C. W., Singer, H. J., Omura, Y., Horne, R. B., Reeves, G. D., Baker, D. N., Gkioulidou, M., Oksavik, K., Mann, I. R., Raita, T., Shiokawa, K., (2015), Van Allen probes, NOAA, GOES, and ground observations of an intense EMIC wave event extending over 12 h in magnetic local time, Journal of Geophysical Research-Space Physics, 120, 5465-5488
Gkioulidou, Matina, Ohtani, S., Mitchell, D. G., Ukhorskiy, A. Y., Reeves, G. D., Turner, D. L., Gjerloev, J. W., Nose, M., Koga, K., Rodriguez, J. V., Lanzerotti, L. J., (2015), Spatial structure and temporal evolution of energetic particle injections in the inner magnetosphere during the 14 July 2013 substorm event, Journal of Geophysical Research-Space Physics, 120, 1924-1938
Halford, A. J., McGregor, S. L., Murphy, K. R., Millan, R. M., Hudson, M. K., Woodger, L. A., Cattel, C. A., Breneman, A. W., Mann, I. R., Kurth, W. S., Hospodarsky, G. B., Gkioulidou, M., Fennell, J. F., (2015), BARREL observations of an ICME-shock impact with the magnetosphere and the resultant radiation belt electron loss, Journal of Geophysical Research-Space Physics, 120, 2557-2570
Motoba, T., Takahashi, K., Ukhorskiy, A., Gkioulidou, M., Mitchell, D. G., Lanzerotti, L. J., Korotova, G. I., Donovan, E. F., Wygant, J. R., Kletzing, C. A., Kurth, W. S., Blake, J. B., (2015), Link between premidnight second harmonic poloidal waves and auroral undulations: Conjugate observations with a Van Allen Probe spacecraft and a THEMIS all-sky imager, Journal of Geophysical Research-Space Physics, 120, 1814-1831
O'Brien, T. P., Claudepierre, S. G., Looper, M. D., Blake, J. B., Fennell, J. F., Clemmons, J. H., Roeder, J. L., Kanekal, S. G., Manweiler, J. W., Mitchell, D. G., Gkioulidou, M., Lanzerotti, L. J., Spence, H. E., Reeves, G. D., Baker, D. N., (2015), On the use of drift echoes to characterize on-orbit sensor discrepancies, Journal of Geophysical Research-Space Physics, 120, 2076-2087
Thaller, S. A., Wygant, J. R., Dai, L., Breneman, A. W., Kersten, K., Cattell, C. A., Bonnell, J. W., Fennell, J. F., Gkioulidou, Matina, Kletzing, C. A., De Pascuale, S., Hospodarsky, G. B., Bounds, S. R., (2015), Van Allen Probes investigation of the large-scale duskward electric field and its role in ring current formation and plasmasphere erosion in the 1 June 2013 storm, Journal of Geophysical Research-Space Physics, 120, 4531-4543
Turner, D. L., Claudepierre, S. G., Fennell, J. F., O'Brien, T. P., Blake, J. B., Lemon, C., Gkioulidou, M., Takahashi, K., Reeves, G. D., Thaller, S., Breneman, A., Wygant, J. R., Li, W., Runov, A., Angelopoulos, V., (2015), Energetic electron injections deep into the inner magnetosphere associated with substorm activity, Geophysical Research Letters, 42, 2079-2087
Gerrard, Andrew, Lanzerotti, Louis, Gkioulidou, Matina, Mitchell, Donald, Manweiler, Jerry, Bortnik, Jacob, (2014), Quiet time observations of He ions in the inner magnetosphere as observed from the RBSPICE instrument aboard the Van Allen Probes mission, Geophysical Research Letters, 41, 1100-1105
Gerrard, Andrew, Lanzerotti, Louis, Gkioulidou, Matina, Mitchell, Donald, Manweiler, Jerry, Bortnik, Jacob, Keika, Kunihiro, (2014), Initial measurements of O-ion and He-ion decay rates observed from the Van Allen probes RBSPICE instrument, Journal of Geophysical Research-Space Physics, 119, 8813-8819
Gkioulidou, Matina, Ukhorskiy, A. Y., Mitchell, D. G., Sotirelis, T., Mauk, B. H., Lanzerotti, L. J., (2014), The role of small-scale ion injections in the buildup of Earth's ring current pressure: Van Allen Probes observations of the 17 March 2013 storm, Journal of Geophysical Research-Space Physics, 119
Wang, Chih-Ping, Gkioulidou, Matina, Lyons, Larry R., Xing, Xiaoyan, Wolf, Richard A., (2014), Interchange motion as a transport mechanism for formation of cold-dense plasma sheet, Journal of Geophysical Research-Space Physics, 119, 8318-8337
Wing, Simon, Gkioulidou, Matina, Johnson, Jay R., Newell, Patrick T., Wang, Chih-Ping, (2013), Auroral particle precipitation characterized by the substorm cycle, Journal of Geophysical Research-Space Physics, 118, 1022-1039
Gkioulidou, Matina, Wang, Chih-Ping, Wing, Simon, Lyons, Larry R., Wolf, Richard A., Hsu, Tung-Shin, (2012), Effect of an MLT dependent electron loss rate on the magnetosphere-ionosphere coupling, Journal of Geophysical Research-Space Physics, 117
Lyons, L. R., Nishimura, Y., Xing, X., Shi, Y., Gkioulidou, M., Wang, C. -P., Kim, H. -J., Zou, S., Angelopoulos, V., Donovan, E., Keiling, A, Bagenal, F, Karlsson, T, (2012), Auroral Disturbances as a Manifestation of Interplay Between Large-Scale and Mesoscale Structure of Magnetosphere-Ionosphere Electrodynamical Coupling, Auroral Phenomenology and Magnetospheric Processes: Earth and Other Planets, 197, 193-204
Wang, Chih-Ping, Gkioulidou, Matina, Lyons, Larry R., Angelopoulos, Vassilis, (2012), Spatial distributions of the ion to electron temperature ratio in the magnetosheath and plasma sheet, Journal of Geophysical Research-Space Physics, 117
Gkioulidou, Matina, Wang, Chih-Ping, Lyons, Larry R., (2011), Effect of self-consistent magnetic field on plasma sheet penetration to the inner magnetosphere: Rice convection model simulations combined with modified Dungey force-balanced magnetic field solver, Journal of Geophysical Research-Space Physics, 116
Subbotin, D. A., Shprits, Y. Y., Gkioulidou, M., Lyons, L. R., Ni, B., Merkin, V. G., Toffoletto, F. R., Thorne, R. M., Horne, R. B., Hudson, M. K., (2011), Simulation of the acceleration of relativistic electrons in the inner magnetosphere using RCM-VERB coupled codes, Journal of Geophysical Research-Space Physics, 116
Wang, Chih-Ping, Gkioulidou, Matina, Lyons, Larry R., Wolf, Richard A., Angelopoulos, Vassilis, Nagai, Tsugunobu, Weygand, James M., Lui, A. T. Y., (2011), Spatial distributions of ions and electrons from the plasma sheet to the inner magnetosphere: Comparisons between THEMIS-Geotail statistical results and the Rice convection model, Journal of Geophysical Research-Space Physics, 116
Chen, Lunjin, Thorne, Richard M., Jordanova, Vania K., Wang, Chih-Ping, Gkioulidou, Matina, Lyons, Larry, Horne, Richard B., (2010), Global simulation of EMIC wave excitation during the 21 April 2001 storm from coupled RCM-RAM-HOTRAY modeling, Journal of Geophysical Research-Space Physics, 115
Gkioulidou, Matina, Wang, Chih-Ping, Lyons, Larry R., Wolf, Richard A., (2009), Formation of the Harang reversal and its dependence on plasma sheet conditions: Rice convection model simulations, Journal of Geophysical Research-Space Physics, 114
Lyons, Larry R., Wang, Chih-Ping, Gkioulidou, Matina, Zou, Shasha, (2009), Connections between plasma sheet transport, Region 2 currents, and entropy changes associated with convection, steady magnetospheric convection periods, and substorms, Journal of Geophysical Research-Space Physics, 114
Gkioulidou, M., Zimbardo, G., Pommois, P., Veltri, P., Vlahos, L., (2007), High energy particle transport in stochastic magnetic fields in the solar corona, Astronomy & Astrophysics, 462, 1113-1120