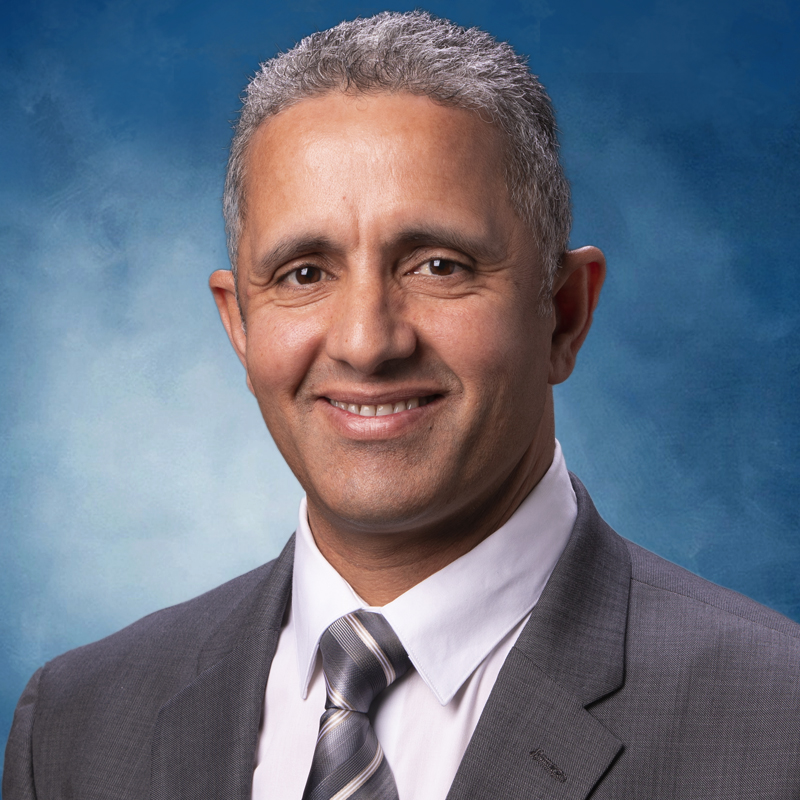 240-228-8168


Nour.Raouafi@jhuapl.edu


: SES


: Astrophysicist


: Heliophysics, Planetary


No items found


| Degree | Field of Study | Year Attained | Institution Name |
| --- | --- | --- | --- |
| Ph.D. | Astrophysics | 2000 | University Paris XI, Orsay, France |
| M.A. | Astrophysics | 1997 | University Paul Sabatier, Toulouse, France |
| B.S. | Fundamental Physics | 1996 | University Tunis II, Tunisia |
Dr. Nour E. Raouafi is an Astrophysicist and a Principal Professional Staff at the Johns Hopkins Applied Physics Laboratory, Laurel, Maryland. I am also the Project Scientist of NASA's Parker Solar Probe mission, which launched on August 12, 2018, and is the record holder of the closest man-made object to a star (i.e., the Sun) and also the fastest spacecraft. Parker will get as close as 3.8 million miles from the solar surface, that almost 4% of the Sun-Earth distance (i.e., 93 million miles)
I obtained his Ph.D. in December 2000 from the University of Paris XI (Orsay, France). Before joining the Johns Hopkins Applied Physics Laboratory in 2008, I worked at the Max Planck Institute for Solar System Research (Göttingen, Germany 2002-2005) and the National Solar Observatory (Tucson, Arizona: 2005-2008). 
My research spreads over a wide range of solar and heliospheric areas with an emphasis on the dynamic solar corona via the analysis of spectral and imaging observations, theory, and modeling. My primary contributions have been in the area of solar magnetic fields, coronal spectropolarimetry, coronal plumes and jets, CMEs and coronal shock waves, solar wind, solar energetic particles, and cometary physics. I authored and co-authored tens of peer-reviewed papers and meeting proceedings.
I am a member of the American Geophysical Union (AGU), the American Astronomical Society (AAS), and the AAS/Solar Physics Division (SPD).
I am a USSF (United States Soccer Federation) certified referee since 2006.
| AGU Index Category | AGU Index Sub-Category |
| --- | --- |
| SOLAR PHYSICS, ASTROPHYSICS, AND ASTRONOMY | Corona |
| SOLAR PHYSICS, ASTROPHYSICS, AND ASTRONOMY | Coronal mass ejections |
| SOLAR PHYSICS, ASTROPHYSICS, AND ASTRONOMY | Coronal holes |
| SOLAR PHYSICS, ASTROPHYSICS, AND ASTRONOMY | Energetic particles |
| SOLAR PHYSICS, ASTROPHYSICS, AND ASTRONOMY | Chromosphere |
| SOLAR PHYSICS, ASTROPHYSICS, AND ASTRONOMY | Flares |
| SOLAR PHYSICS, ASTROPHYSICS, AND ASTRONOMY | Magnetic fields |
| SOLAR PHYSICS, ASTROPHYSICS, AND ASTRONOMY | Ultraviolet emissions |
| PLANETARY SCIENCES: COMETS AND SMALL BODIES | Comets: dust tails and trails |
| SPACE PLASMA PHYSICS | Shock waves |
:
| Start Year | End Year | Description |
| --- | --- | --- |
| 2020 | Current | Principal Professional Staff -- Johns Hopkins Applied Physics Laboratory |
| 2009 | 2020 | Senior Professional Staff -- Johns Hopkins Applied Physics Laboratory |
| 2005 | 2008 | Research Associate - The National Solar Observatory (NSO) |
| 2002 | 2005 | Postdoctoral Fellow - The Max-Planck Institute for Solar System Research (MPS), Göttingen, Germany |
| Year | Description |
| --- | --- |
| 2019 | NASA Silver Achievement Medal Award: Parker Solar Probe has been awarded the NASA Silver Achievement Medal in recognition of its "stellar achievement" as humanity's first mission to explore the Sun's corona and the solar wind within the extreme environment around our star. http://parkersolarprobe.jhuapl.edu/News-Center/Show-Article.php?articleID=130 |
| 2019 | AAS Neil Armstrong Award: The Parker Solar Probe team has been named the winner of the 2018 Neil Armstrong Space Flight Achievement Award, given by the American Astronautical Society at its 57th Robert H. Goddard Memorial Symposium in Silver Spring, Maryland. http://parkersolarprobe.jhuapl.edu/News-Center/Show-Article.php?articleID=118 |
| 2016 | JHUAPL peer-reviewed publication for the paper "The Solar Probe Plus Mission: Humanity's First Visit to Our Star" published in Space Science Reviews. |
| 2016 | SES/SRP Merit Award for exceptional impact, expertise, and performance for the 2016 calendar year. |
| 2016 | Parker Solar Probe Special Achievement Award for outstanding contributions to the PSP mission. |
| 1996 | Award of excellence, Tunis Faculty of Sciences, University Tunis II, Tunisia |
| 1995 | Award of excellence, Tunis Faculty of Sciences, University Tunis II, Tunisia |
| 1994 | Award of excellence, Tunis Faculty of Sciences, University Tunis II, Tunisia |
:
Lavraud, B. and Fargette, N. and Reville, V. and Szabo, A. and Huang, J. and Rouillard, A.~P. and Viall, N. and Phan, T.~D. and Kasper, J.~C. and Bale, S.~D. and Berthomier, M. and Bonnell, J.~W. and Case, A.~W. and Dudok de Wit, T. and Eastwood, J.~P. and Genot, V. and Goetz, K. and Griton, L.~S. and Halekas, J.~S. and Harvey, P. and Kieokaew, R. and Klein, K.~G. and Korreck, K.~E. and Kouloumvakos, A. and Larson, D.~E. and Lavarra, M. and Livi, R. and Louarn, P. and MacDowall, R.~J. and Maksimovic, M. and Malaspina, D. and Nieves-Chinchilla, T. and Pinto, R.~F. and Poirier, N. and Pulupa, M. and Raouafi, N.~E. and Stevens, M.~L. and Toledo-Redondo, S. and Whittlesey, P.~L., (2020), The Heliospheric Current Sheet and Plasma Sheet during Parker Solar Probe's First Orbit, apjl, 894, 2, L19
Martinez Pillet, V. and Tritschler, A. and Harra, L. and Andretta, V. and Vourlidas, A. and Raouafi, N. and Alterman, B.~L. and Bellot Rubio, L. and Cauzzi, G. and Cranmer, S.~R. and Gibson, S. and Habbal, S. and Ko, Y.~K. and Lepri, S.~T. and Linker, J. and Malaspina, D.~M. and Matthews, S. and Parenti, S. and Petrie, G. and Spadaro, D. and Ugarte-Urra, I. and Warren, H. and Winslow, R., (2020), Solar physics in the 2020s: DKIST, parker solar probe, and solar orbiter as a multi-messenger constellation, arXiv e-prints, arXiv:2004.08632
Krasnoselskikh, V. and Larosa, A. and Agapitov, O. and de Wit, T. Dudok and Moncuquet, M. and Mozer, F.~S. and Stevens, M. and Bale, S.~D. and Bonnell, J. and Froment, C. and Goetz, K. and Goodrich, K. and Harvey, P. and Kasper, J. and MacDowall, R. and Malaspina, D. and Pulupa, M. and Raouafi, N. and Revillet, C. and Velli, M. and Wygant, J., (2020), Localized Magnetic-field Structures and Their Boundaries in the Near-Sun Solar Wind from Parker Solar Probe Measurements, apj, 893, 2, 93
Bandyopadhyay, Riddhi and Matthaeus, W.~H. and Parashar, T.~N. and Chhiber, R. and Ruffolo, D. and Goldstein, M.~L. and Maruca, B.~A. and Chasapis, A. and Qudsi, R. and McComas, D.~J. and Christian, E.~R. and Szalay, J.~R. and Joyce, C.~J. and Giacalone, J. and Schwadron, N.~A. and Mitchell, D.~G. and Hill, M.~E. and Wiedenbeck, M.~E. and McNutt, R.~L., Jr. and Desai, M.~I. and Bale, Stuart D. and Bonnell, J.~W. and de Wit, Thierry Dudok and Goetz, Keith and Harvey, Peter R. and MacDowall, Robert J. and Malaspina, David M. and Pulupa, Marc and Velli, M. and Kasper, J.~C. and Korreck, K.~E. and Stevens, M. and Case, A.~W. and Raouafi, N., (2020), Observations of Energetic-particle Population Enhancements along Intermittent Structures near the Sun from the Parker Solar Probe, apjs, 246, 2, 61
Rouillard, Alexis P. and Poirier, Nicolas and Lavarra, Michael and Bourdelle, Anthony and Dalmasse, Kevin and Kouloumvakos, Athanasios and Vourlidas, Angelos and Kunkel, Valbona and Hess, Phillip and Howard, Russ A. and Stenborg, Guillermo and Raouafi, Nour E., (2020), Modeling the Early Evolution of a Slow Coronal Mass Ejection Imaged by the Parker Solar Probe, apjs, 246, 2, 72
Nieves-Chinchilla, Teresa and Szabo, Adam and Korreck, Kelly E. and Alzate, Nathalia and Balmaceda, Laura A. and Lavraud, Benoit and Paulson, Kristoff and Narock, Ayris A. and Wallace, Samantha and Jian, Lan K. and Luhmann, Janet G. and Morgan, Huw and Higginson, Aleida and Arge, Charles N. and Bale, Stuart D. and Case, Anthony W. and Wit, Thierry Dudok de and Giacalone, Joe and Goetz, Keith and Harvey, Peter R. and Jones-Melosky, Shaela I. and Kasper, J.~C. and Larson, Davin E. and Livi, Roberto and McComas, David J. and MacDowall, Robert J. and Malaspina, David M. and Pulupa, Marc and Raouafi, Nour E. and Schwadron, Nathan and Stevens, Michael Louis and Whittlesey, Phyllis L., (2020), Analysis of the Internal Structure of the Streamer Blowout Observed by the Parker Solar Probe During the First Solar Encounter, apjs, 246, 2, 63
Poirier, Nicolas and Kouloumvakos, Athanasios and Rouillard, Alexis P. and Pinto, Rui F. and Vourlidas, Angelos and Stenborg, Guillermo and Valette, Emeline and Howard, Russell A. and Hess, Phillip and Thernisien, Arnaud and Rich, Nathan and Griton, Lea and Indurain, Mikel and Raouafi, Nour-Edine and Lavarra, Michael and Reville, Victor, (2020), Detailed Imaging of Coronal Rays with the Parker Solar Probe, apjs, 246, 2, 60
Parashar, T.~N. and Goldstein, M.~L. and Maruca, B.~A. and Matthaeus, W.~H. and Ruffolo, D. and Bandyopadhyay, R. and Chhiber, R. and Chasapis, A. and Qudsi, R. and Vech, D. and Roberts, D.~A. and Bale, S.~D. and Bonnell, J.~W. and de Wit, T. Dudok and Goetz, K. and Harvey, P.~R. and MacDowall, R.~J. and Malaspina, D. and Pulupa, M. and Kasper, J.~C. and Korreck, K.~E. and Case, A.~W. and Stevens, M. and Whittlesey, P. and Larson, D. and Livi, R. and Velli, M. and Raouafi, N., (2020), Measures of Scale-dependent Alfvenicity in the First PSP Solar Encounter, apjs, 246, 2, 58
Bandyopadhyay, Riddhi and Goldstein, M.~L. and Maruca, B.~A. and Matthaeus, W.~H. and Parashar, T.~N. and Ruffolo, D. and Chhiber, R. and Usmanov, A. and Chasapis, A. and Qudsi, R. and Bale, Stuart D. and Bonnell, J.~W. and Dudok de Wit, Thierry and Goetz, Keith and Harvey, Peter R. and MacDowall, Robert J. and Malaspina, David M. and Pulupa, Marc and Kasper, J.~C. and Korreck, K.~E. and Case, A.~W. and Stevens, M. and Whittlesey, P. and Larson, D. and Livi, R. and Klein, K.~G. and Velli, M. and Raouafi, N., (2020), Enhanced Energy Transfer Rate in Solar Wind Turbulence Observed near the Sun from Parker Solar Probe, apjs, 246, 2, 48
Chhiber, Rohit and Goldstein, M.~L. and Maruca, B.~A. and Chasapis, A. and Matthaeus, W.~H. and Ruffolo, D. and Band yopadhyay, R. and Parashar, T.~N. and Qudsi, R. and de Wit, T. Dudok and Bale, S.~D. and Bonnell, J.~W. and Goetz, K. and Harvey, P.~R. and MacDowall, R.~J. and Malaspina, D. and Pulupa, M. and Kasper, J.~C. and Korreck, K.~E. and Case, A.~W. and Stevens, M. and Whittlesey, P. and Larson, D. and Livi, R. and Velli, M. and Raouafi, N., (2020), Clustering of Intermittent Magnetic and Flow Structures near Parker Solar Probe's First PeriheliontextemdashA Partial-variance-of-increments Analysis, apjs, 246, 2, 31
Horbury, Timothy S. and Woolley, Thomas and Laker, Ronan and Matteini, Lorenzo and Eastwood, Jonathan and Bale, Stuart D. and Velli, Marco and Chandran, Benjamin D.~G. and Phan, Tai and Raouafi, Nour E. and Goetz, Keith and Harvey, Peter R. and Pulupa, Marc and Klein, K.~G. and Dudok de Wit, Thierry and Kasper, Justin C. and Korreck, Kelly E. and Case, A.~W. and Stevens, Michael L. and Whittlesey, Phyllis and Larson, Davin and MacDowall, Robert J. and Malaspina, David M. and Livi, Roberto, (2020), Sharp Alfvenic Impulses in the Near-Sun Solar Wind, apjs, 246, 2, 45
Allen, R.~C. and Lario, D. and Odstrcil, D. and Ho, G.~C. and Jian, L.~K. and Cohen, C.~M.~S. and Badman, S.~T. and Jones, S.~I. and Arge, C.~N. and Mays, M.~L. and Mason, G.~M. and Bale, S.~D. and Bonnell, J.~W. and Case, A.~W. and Christian, E.~R. and de Wit, T. Dudok and Goetz, K. and Harvey, P.~R. and Henney, C.~J. and Hill, M.~E. and Kasper, J.~C. and Korreck, K.~E. and Larson, D. and Livi, R. and MacDowall, R.~J. and Malaspina, D.~M. and McComas, D.~J. and McNutt, R. and Mitchell, D.~G. and Pulupa, M. and Raouafi, N. and Schwadron, N. and Stevens, M.~L. and Whittlesey, P.~L. and Wiedenbeck, M., (2020), Solar Wind Streams and Stream Interaction Regions Observed by the Parker Solar Probe with Corresponding Observations at 1 au, apjs, 246, 2, 36
Rouillard, Alexis P. and Kouloumvakos, Athanasios and Vourlidas, Angelos and Kasper, Justin and Bale, Stuart and Raouafi, Nour-Edine and Lavraud, Benoit and Howard, Russell A. and Stenborg, Guillermo and Stevens, Michael and Poirier, Nicolas and Davies, Jackie A. and Hess, Phillip and Higginson, Aleida K. and Lavarra, Michael and Viall, Nicholeen M. and Korreck, Kelly and Pinto, Rui F. and Griton, Lea and Reville, Victor and Louarn, Philippe and Wu, Yihong and Dalmasse, Kevin and Genot, Vincent and Case, Anthony W. and Whittlesey, Phyllis and Larson, Davin and Halekas, Jasper S. and Livi, Roberto and Goetz, Keith and Harvey, Peter R. and MacDowall, Robert J. and Malaspina, D. and Pulupa, M. and Bonnell, J. and de Witt, T. Dudok and Penou, Emmanuel, (2020), Relating Streamer Flows to Density and Magnetic Structures at the Parker Solar Probe, apjs, 246, 2, 37
Phan, T.~D. and Bale, S.~D. and Eastwood, J.~P. and Lavraud, B. and Drake, J.~F. and Oieroset, M. and Shay, M.~A. and Pulupa, M. and Stevens, M. and MacDowall, R.~J. and Case, A.~W. and Larson, D. and Kasper, J. and Whittlesey, P. and Szabo, A. and Korreck, K.~E. and Bonnell, J.~W. and de Wit, T. Dudok and Goetz, K. and Harvey, P.~R. and Horbury, T.~S. and Livi, R. and Malaspina, D. and Paulson, K. and Raouafi, N.~E. and Velli, M., (2020), Parker Solar Probe In Situ Observations of Magnetic Reconnection Exhausts during Encounter 1, apjs, 246, 2, 34
Qudsi, R.~A. and Maruca, B.~A. and Matthaeus, W.~H. and Parashar, T.~N. and Bandyopadhyay, Riddhi and Chhiber, R. and Chasapis, A. and Goldstein, Melvyn L. and Bale, S.~D. and Bonnell, J.~W. and Dudok de Wit, T. and Goetz, K. and Harvey, P.~R. and MacDowall, R.~J. and Malaspina, D. and Pulupa, M. and Kasper, J.~C. and Korreck, K.~E. and Case, A.~W. and Stevens, M. and Whittlesey, P. and Larson, D. and Livi, R. and Velli, M. and Raouafi, N., (2020), Observations of Heating along Intermittent Structures in the Inner Heliosphere from PSP Data, apjs, 246, 2, 46
Hess, P. and Howard, R. and Vourlidas, A. and Bothmer, V. and Colaninno, R. and DeForest, C. and Gallagher, B. and Hall, J.~R. and Higginson, A. and Korendyke, C. and Kouloumvakos, A. and Lamy, P. and Liewer, P. and Linker, J. and Linton, M. and Penteado, P. and Plunkett, S. and Poirer, N. and Raouafi, N. and Rich, N. and Rochus, P. and Rouillard, A. and Socker, D. and Stenborg, G. and Thernisien, A. and Viall, N., (2020), Imaging the Solar Corona From Within, American Astronomical Society Meeting Abstracts, 149.07
Bale, S.~D. and Badman, S.~T. and Bonnell, J.~W. and Bowen, T.~A. and Burgess, D. and Case, A.~W. and Cattell, C.~A. and Chandran, B.~D.~G. and Chaston, C.~C. and Chen, C.~H.~K. and Drake, J.~F. and de Wit, T. Dudok and Eastwood, J.~P. and Ergun, R.~E. and Farrell, W.~M. and Fong, C. and Goetz, K. and Goldstein, M. and Goodrich, K.~A. and Harvey, P.~R. and Horbury, T.~S. and Howes, G.~G. and Kasper, J.~C. and Kellogg, P.~J. and Klimchuk, J.~A. and Korreck, K.~E. and Krasnoselskikh, V.~V. and Krucker, S. and Laker, R. and Larson, D.~E. and MacDowall, R.~J. and Maksimovic, M. and Malaspina, D.~M. and Martinez-Oliveros, J. and McComas, D.~J. and Meyer-Vernet, N. and Moncuquet, M. and Mozer, F.~S. and Phan, T.~D. and Pulupa, M. and Raouafi, N.~E. and Salem, C. and Stansby, D. and Stevens, M. and Szabo, A. and Velli, M. and Woolley, T. and Wygant, J.~R., (2019), Highly structured slow solar wind emerging from an equatorial coronal hole, nat, 576, 7786, 237-242
Howard, R.~A. and Vourlidas, A. and Bothmer, V. and Colaninno, R.~C. and DeForest, C.~E. and Gallagher, B. and Hall, J.~R. and Hess, P. and Higginson, A.~K. and Korendyke, C.~M. and Kouloumvakos, A. and Lamy, P.~L. and Liewer, P.~C. and Linker, J. and Linton, M. and Penteado, P. and Plunkett, S.~P. and Poirier, N. and Raouafi, N.~E. and Rich, N. and Rochus, P. and Rouillard, A.~P. and Socker, D.~G. and Stenborg, G. and Thernisien, A.~F. and Viall, N.~M., (2019), Near-Sun observations of an F-corona decrease and K-corona fine structure, nat, 576, 7786, 232-236
Parashar, T.~N. and Goldstein, M.~L. and Maruca, B.~A. and Matthaeus, W.~H. and Ruffolo, D. and Bandyopadhyay, R. and Chhiber, R. and Chasapis, A. and Qudsi, R. and Vech, D. and Roberts, D.~A. and Bale, S.~D. and Bonnell, J.~W. and Dudok de Wit, T. and Goetz, K. and Harvey, P.~R. and MacDowall, R.~J. and Malaspina, D. and Pulupa, M. and Kasper, J.~C. and Korreck, K.~E. and Case, A.~W. and Stevens, M. and Whittlesey, P. and Larson, D. and Livi, R. and Velli, M. and Raouafi, N., (2019), Measures of Scale Dependent Alfvenicity in the First PSP Solar Encounter, arXiv e-prints, arXiv:1912.07181
Kasper, J.~C. and Bale, S.~D. and Belcher, J.~W. and Berthomier, M. and Case, A.~W. and Chandran, B.~D.~G. and Curtis, D.~W. and Gallagher, D. and Gary, S.~P. and Golub, L. and Halekas, J.~S. and Ho, G.~C. and Horbury, T.~S. and Hu, Q. and Huang, J. and Klein, K.~G. and Korreck, K.~E. and Larson, D.~E. and Livi, R. and Maruca, B. and Lavraud, B. and Louarn, P. and Maksimovic, M. and Martinovic, M. and McGinnis, D. and Pogorelov, N.~V. and Richardson, J.~D. and Skoug, R.~M. and Steinberg, J.~T. and Stevens, M.~L. and Szabo, A. and Velli, M. and Whittlesey, P.~L. and Wright, K.~H. and Zank, G.~P. and MacDowall, R.~J. and McComas, D.~J. and McNutt, R.~L. and Pulupa, M. and Raouafi, N.~E. and Schwadron, N.~A., (2019), Alfvenic velocity spikes and rotational flows in the near-Sun solar wind, nat, 576, 7786, 228-231
Laming, J. Martin and Vourlidas, Angelos and Korendyke, Clarence and Chua, Damien and Cranmer, Steven R. and Ko, Yuan-Kuen and Kuroda, Natsuha and Provornikova, Elena and Raymond, John C. and Raouafi, Nour-Eddine and Strachan, Leonard and Tun-Beltran, Samuel and Weberg, Micah and Wood, Brian E., (2019), Element Abundances: A New Diagnostic for the Solar Wind, apj, 879, 2, 124
Raouafi, Nour E., (2018), Magnetic Field Diagnostics in the Solar Upper Atmosphere and Future Instrumentation, 42nd COSPAR Scientific Assembly, 42, E2.1-32-18
Raouafi, Nour E., (2018), Coronal Jets: Formation, Evolution, and Effects in the Heliosphere, 42nd COSPAR Scientific Assembly, 42, E2.1-13-18
Lario, D. and Kwon, R. -Y. and Riley, P. and Raouafi, N.~E., (2017), On the Link between the Release of Solar Energetic Particles Measured at Widespread Heliolongitudes and the Properties of the Associated Coronal Shocks, apj, 847, 2, 103
DeForest, Craig and Antiochos, Spiro K. and DeVore, C. Richard and Karpen, Judith T. and Kumar, Pankaj and Raouafi, Nour-Eddine and Roberts, Merrill and Uritsky, Vadim and Wyper, Peter, (2017), Solar Jetlets and Plumes, AAS/Solar Physics Division Abstracts #48, 304.01
Tucker, A.~O., IV and Berardino, R.~A. and Hahne, D. and Schreurs, B. and Fox, N.~J. and Raouafi, N., (2017), Augmented Visual Experience of Simulated Solar Phenomena, AGU Fall Meeting Abstracts, 2017, SH23D-2688
Lario, D. and Kwon, R. -Y. and Richardson, I.~G. and Raouafi, N.~E. and Thompson, B.~J. and von Rosenvinge, T.~T. and Mays, M.~L. and M"akel"a, P.~A. and Xie, H. and Bain, H.~M. and Zhang, M. and Zhao, L. and Cane, H.~V. and Papaioannou, A. and Thakur, N. and Riley, P., (2017), The Solar Energetic Particle Event of 2010 August 14: Connectivity with the Solar Source Inferred from Multiple Spacecraft Observations and Modeling, apj, 838, 1, 51
Raouafi, N.~E. and Lario, D. and Kwon, R.~Y. and Riley, P., (2016), The Connection Between the Longitudinal Extent of SEP Events and the Properties of Coronal Shocks, AGU Fall Meeting Abstracts, SH41B-2531
Kwon, R.~Y. and Makela, P.~A. and Lario, D. and Raouafi, N.~E. and Thompson, B.~J. and Richardson, I.~G. and von Rosenvinge, T.~T. and Xie, H. and Mays, M.~L. and Thakur, N. and Bain, H.~M. and Zhang, M. and Zhao, L. and Matthaeus, W.~H. and Papaioannou, A. and Riley, P., (2016), Connectivity Between Solar Energetic Particle Observations and Their Solar Sources: The Event on 14 August 2010, AGU Fall Meeting Abstracts, SH41B-2530
Raouafi, N.~E. and Lisse, C.~M. and Stenborg, G. and Jones, G. and Schmidt, C., (2016), Dynamics of HVECs emitted from comet C/2011 L4 as observed by STEREO, AGU Fall Meeting Abstracts, P43B-2114
Nour E. Raouafi, Pete Riley, Sarah Gibson, Silvano Fineschi, Sami K. Solanki, (2016), Diagnostics of Coronal Magnetic Fields through the Hanle Effect in UV and IR Lines, Frontiers in Astronomy and Space Sciences, 3,
https://doi.org/10.3389/fspas.2016.00020
Fox, N.~J. and Velli, M.~C. and Bale, S.~D. and Decker, R. and Driesman, A. and Howard, R.~A. and Kasper, J.~C. and Kinnison, J. and Kusterer, M. and Lario, D. and Lockwood, M.~K. and McComas, D.~J. and Raouafi, N.~E. and Szabo, A., (2016), The Solar Probe Plus Mission: Humanity's First Visit to Our Star, ssr, 204, 1-4, 7-48
Raouafi, N.~E. and Patsourakos, S. and Pariat, E. and Young, P.~R. and Sterling, A.~C. and Savcheva, A. and Shimojo, M. and Moreno-Insertis, F. and DeVore, C.~R. and Archontis, V. and T"or"ok, T. and Mason, H. and Curdt, W. and Meyer, K. and Dalmasse, K. and Matsui, Y., (2016), Solar Coronal Jets: Observations, Theory, and Modeling, ssr, 201, 1-4, 1-53
Lario, D. and Kwon, R. -Y. and Vourlidas, A. and Raouafi, N.~E. and Haggerty, D.~K. and Ho, G.~C. and Anderson, B.~J. and Papaioannou, A. and Gomez-Herrero, R. and Dresing, N. and Riley, P., (2016), Longitudinal Properties of a Widespread Solar Energetic Particle Event on 2014 February 25: Evolution of the Associated CME Shock, apj, 819, 1, 72
Raouafi, N. -E. and Lisse, C.~M. and Stenborg, G. and Jones, G.~H. and Schmidt, C.~A., (2015), Dynamics of HVECs emitted from comet C/2011 L4 as observed by STEREO, Journal of Geophysical Research (Space Physics), 120, 7, 5329-5340
Lisse, C.~M. and Raouafi, N.~E. and Stenborg, G. and Jones, G.~H. and Schmidt, C., (2015), Dynamics of High-Velocity Evanescent Clumps (HVECs) Emitted from Comet C/2011 L4 (Pan-STARRS) as Observed by STEREO, AGU Fall Meeting Abstracts, 2015, SM31D-2542
Lario, D. and Kwon, R.~Y. and Papaioannou, A. and Dresing, N. and Raouafi, N.~E. and Gomez-Herrero, R. and Ho, G.~C. and Vourlidas, A. and Riley, P., (2015), Longitudinal Properties of a Widespread Solar Energetic Particle Event on 2014 February 25: Evolution of the Parent CME and Associated Shock, AGU Fall Meeting Abstracts, 2015, SH33B-2464
Lario, David and Kwon, R. -Y. and Raouafi, N.~E., (2015), Connecting the longitudinal spread of SEP events with their solar sources, Solar Heliospheric and INterplanetary Environment (SHINE 2015), 125
Raouafi, N.~E. and Colaninno, R.~C. and Vourlidas, A. and Stenborg, G. and Lario, D. and Merkin, V.~G., (2014), The CME event on 07 January 2014: Why was it a geomagnetic dud?, AGU Fall Meeting Abstracts, 2014, SH51E-05
Raouafi, N.~E. and Riley, P., (2014), Coronal Magnetism: Hanle Effect in UV and IR Spectral Lines, AGU Fall Meeting Abstracts, 2014, SH13A-4066
Lario, D. and Raouafi, N.~E. and Kwon, R. -Y. and Zhang, J. and Gomez-Herrero, R. and Dresing, N. and Riley, P., (2014), The Solar Energetic Particle Event on 2013 April 11: An Investigation of its Solar Origin and Longitudinal Spread, apj, 797, 1, 8
Raouafi, N.~E. and Lario, D. and Kwon, R.~Y. and Zhang, J. and Gomez-Herrero, R. and Dresing, N. and Riley, P., (2014), The Solar Energetic Particle Event on 2013 April 11: An Investigation of the Solar Origin of its Longitudinal Widespread, AGU Fall Meeting Abstracts, 2014, SH43A-4188
Merkin, Slava and Lyon, J.~G. and Lionello, R. and Linker, J. and Raouafi, N. -E., (2014), Time-dependent coupling of LFM-helio and MAS models for CME propagation, Solar Heliospheric and INterplanetary Environment (SHINE 2014), 9
Raouafi, N. -E. and Stenborg, G., (2014), Role of Transients in the Sustainability of Solar Coronal Plumes, apj, 787, 2, 118
Lyon, J. and Merkin, V.~G. and Lionello, R. and Linker, J. and Raouafi, N.~E., (2014), Time-Dependent Coupling of Lfm-Helio and MAS Models for CME Propagation, AGU Fall Meeting Abstracts, 2014, SH21C-4132
Raouafi, N. and Stenborg, G. and Stekel, T., (2013), The acceleration of the jet response observed in AIA observations, AGU Spring Meeting Abstracts, 2013, SH42A-04
Tziotziou, K. and Georgoulis, M.~K. and Raouafi, N. -E., (2013), The relation between Magnetic Energy and Helicity and their accumulation in Eruptive Solar Active Regions, 370 Years of Astronomy in Utrecht, 470, 59
Raouafi, N. and Bernasconi, P.~N., (2012), Plasma Disturbances in the Solar Polar Regions, AGU Fall Meeting Abstracts, 2012, SH53A-2269
Georgoulis, M.~K. and Tziotziou, K. and Raouafi, N., (2012), Magnetic Energy and Helicity Properties of Eruptive Solar Active Regions, AGU Fall Meeting Abstracts, 2012, SH53B-02
Georgoulis, Manolis K. and Tziotziou, Kostas and Raouafi, Nour-Eddine, (2012), Magnetic Energy and Helicity Budgets in the Active-region Solar Corona. II. Nonlinear Force-free Approximation, apj, 759, 1, 1
Raouafi, N. -E. and Bernasconi, P.~N. and Rust, D.~M. and Georgoulis, M.~K., (2012), Micro-Sigmoids as Progenitors of Polar Coronal Jets, Hinode-3: The 3rd Hinode Science Meeting, 454, 299
Tziotziou, Kostas and Georgoulis, Manolis K. and Raouafi, Nour-Eddine, (2012), The Magnetic Energy-Helicity Diagram of Solar Active Regions, apjl, 759, 1, L4
Raouafi, Nour-Eddine and Bernasconi, P.~N. and Georgoulis, M.~K., (2012), Plasma Blobs in the Solar Polar Regions: Outflows or Waves?, American Astronomical Society Meeting Abstracts #220, 220, 201.04
Martens, P.~C.~H. and Attrill, G.~D.~R. and Davey, A.~R. and Engell, A. and Farid, S. and Grigis, P.~C. and Kasper, J. and Korreck, K. and Saar, S.~H. and Savcheva, A. and Su, Y. and Testa, P. and Wills-Davey, M. and Bernasconi, P.~N. and Raouafi, N. -E. and Delouille, V.~A. and Hochedez, J.~F. and Cirtain, J.~W. and Deforest, C.~E. and Angryk, R.~A. and de Moortel, I. and Wiegelmann, T. and Georgoulis, M.~K. and McAteer, R.~T.~J. and Timmons, R.~P., (2012), Computer Vision for the Solar Dynamics Observatory (SDO), solphys, 275, 1-2, 79-113
Peter, Hardi and Abbo, L. and Andretta, V. and Auch`ere, F. and Bemporad, A. and Berrilli, F. and Bommier, V. and Braukhane, A. and Casini, R. and Curdt, W. and Davila, J. and Dittus, H. and Fineschi, S. and Fludra, A. and Gandorfer, A. and Griffin, D. and Inhester, B. and Lagg, A. and Land i Degl'Innocenti, E. and Maiwald, V. and Sainz, R. Manso and Martinez Pillet, V and Matthews, S. and Moses, D. and Parenti, S. and Pietarila, A. and Quantius, D. and Raouafi, N. -E. and Raymond, J. and Rochus, P. and Romberg, O. and Schlotterer, M. and Sch"uhle, U. and Solanki, S. and Spadaro, D. and Teriaca, L. and Tomczyk, S. and Trujillo Bueno, J. and Vial, J. -C., (2012), Solar magnetism eXplorer (SolmeX). Exploring the magnetic field in the upper atmosphere of our closest star, Experimental Astronomy, 33, 2-3, 271-303
Raouafi, N. and Stenborg, G. and Vourlidas, A., (2011), Plasma Outflows Within Polar Coronal Plumes, AGU Fall Meeting Abstracts, 2011, SH13B-1959
Wilhelm, K. and Abbo, L. and Auch`ere, F. and Barbey, N. and Feng, L. and Gabriel, A.~H. and Giordano, S. and Imada, S. and Llebaria, A. and Matthaeus, W.~H. and Poletto, G. and Raouafi, N. -E. and Suess, S.~T. and Teriaca, L. and Wang, Y. -M., (2011), Morphology, dynamics and plasma parameters of plumes and inter-plume regions in solar coronal holes, aapr, 19, 1, 35
Raouafi, Noureddine, (2011), On the Relationship Between Small-Scale Sigmoids and Coronal Jets, AAS/Solar Physics Division Abstracts #42, 21.33
Raouafi, N. -E., (2011), Distribution of the Chromospheric Network Magnetic elements in the Solar Polar Regions from 2004 to 2009, Solar Polarization 6, 437, 205
Raouafi, N. -E., (2011), Coronal Polarization, Solar Polarization 6, 437, 99
Raouafi, N. -E. and Bernasconi, P.~N. and Rust, D.~M. and Georgoulis, M.~K., (2010), Micro-Sigmoids as Progenitors of Polar Coronal Jets, arXiv e-prints, arXiv:1009.2951
Raouafi, Noureddine and Bernasconi, P.~N. and Georgoulis, M.~K., (2010), The ``Sigmoid Sniffer"right and the ''Advanced Automated Solar Filament Detection and Characterization Code"right Modules, American Astronomical Society Meeting Abstracts #216, 216, 402.32
Strong, S.~B. and Strikwerda, T. and Lario, D. and Raouafi, N. and Decker, R., (2010), Modeling the Solar Dust Environment at 9.5 Solar Radii: Revealing Radiance Trends with MESSENGER Star Tracker Data, AGU Fall Meeting Abstracts, 2010, P31C-1556
Davey, Alisdair and Martens, P.~C.~H. and Attrill, G.~D.~R. and Engell, A. and Farid, S. and Grigis, P.~C. and Kasper, J. and Korreck, K. and Saar, S.~H. and Su, Y. and Testa, P. and Wills-Davey, M. and Savcheva, A. and Bernasconi, P.~N. and Raouafi, N. -E. and Delouille, V.~A. and Hochedez, J.~F. . and Cirtain, J.~W. and Deforest, C.~E. and Angryk, R.~A. and de Moortel, I. and Wiegelmann, T. and Georgouli, M.~K. and McAteer, R.~T.~J. and Hurlburt, N. and Timmons, R., (2010), Automated Feature and Event Detection with SDO AIA and HMI Data, 38th COSPAR Scientific Assembly, 38, 2
Raouafi, N. -E. and Georgoulis, M.~K. and Rust, D.~M. and Bernasconi, P.~N., (2010), Micro-sigmoids as Progenitors of Coronal Jets: Is Eruptive Activity Self-similarly Multi-scaled?, apj, 718, 2, 981-987
Martens, Petrus C. and Attrill, G. and Davey, A. and Engell, A. and Farid, S. and Grigis, P. and Kasper, J. and Korreck, K. and Saar, S. and Su, Y. and Testa, P. and Wills-Davey, M. and Bernasconi, P. and Raouafi, N. and Georgoulis, M. and Deforest, C. and Peterson, J. and Berghoff, T. and Delouille, V. and Hochedez, J. and Mampaey, B. and Verbeek, C. and Cirtain, J. and Green, S. and Timmons, R. and Savcheva, A. and Angryk, R. and Wiegelmann, T. and McAteer, R., (2010), Computer Vision for SDO: First Results from the SDO Feature Finding Algorithms, American Astronomical Society Meeting Abstracts #216, 216, 308.04
Burtseva, O. and Tripathy, S.~C. and Hill, F. and Kholikov, S. and Raouafi, N. -E. and Lindsey, C., (2009), Amplitudes of High-Degree p Modes in the Quiet and Active Sun, Solar-Stellar Dynamos as Revealed by Helio- and Asteroseismology: GONG 2008/SOHO 21, 416, 293
Raouafi, N. -E. and Solanki, S.~K. and Wiegelmann, T., (2009), Hanle Effect Diagnostics of the Coronal Magnetic Field: A Test Using Realistic Magnetic Field Configurations, Solar Polarization 5: In Honor of Jan Stenflo, 405, 429
Raouafi, N. -E., (2009), Evolution of a Coronal Twisted Flux Rope, The Second Hinode Science Meeting: Beyond Discovery-Toward Understanding, 415, 287
Raouafi, N. -E., (2009), On the Relationship between Polar Coronal Jets and Plumes, The Second Hinode Science Meeting: Beyond Discovery-Toward Understanding, 415, 144
Raouafi, N. -E. and Harvey, J.~W. and Henney, C.~J., (2009), On the Latitude Distribution of the Polar Magnetic Flux as Observed by SOLIS-VSM, Solar Polarization 5: In Honor of Jan Stenflo, 405, 201
Henney, C.~J. and Keller, C.~U. and Harvey, J.~W. and Georgoulis, M.~K. and Hadder, N.~L. and Norton, A.~A. and Raouafi, N. -E. and Toussaint, R.~M., (2009), SOLIS Vector Spectromagnetograph: Status and Science, Solar Polarization 5: In Honor of Jan Stenflo, 405, 47
Raouafi, Noureddine and Solanki, S., (2009), Constraints on O5+ Ions Kinetic Temperature Anisotropies in the Polar Coronal Holes, AAS/Solar Physics Division Meeting #40, 14.04
Raouafi, Noureddine, (2009), Distribution of the Chromospheric Network Magnetic Flux in the Solar Polar Regions From 2003 -- 2009, AAS/Solar Physics Division Meeting #40, 9.23
Raouafi, N. -E., (2009), Observational Evidence for Coronal Twisted Flux Rope, apjl, 691, 2, L128-L132
Raouafi, N. -E. and Petrie, G.~J.~D. and Norton, A.~A. and Henney, C.~J. and Solanki, S.~K., (2008), Evidence for Polar Jets as Precursors of Polar Plume Formation, apjl, 682, 2, L137
Thalmann, J.~K. and Wiegelmann, T. and Raouafi, N. -E., (2008), First nonlinear force-free field extrapolations of SOLIS/VSM data, aap, 488, 3, L71-L74
Norton, A.~A. and Raouafi, N. -E. and Petrie, G.~J.~D., (2008), The Tilted Solar Dipole as Observed and Modeled during the 1996 Solar Minimum, apj, 682, 2, 1306-1314
Raouafi, N.~E. and Petrie, G.~J.~D. and Norton, A.~A. and Henney, C.~J., (2008), Evidence for polar jets as early stage of polar plume formation, AGU Spring Meeting Abstracts, 2008, SH31A-09
Raouafi, N. -E., (2008), Polar Magnetic Field Distribution as Observed by SOLIS and its relation with coronal structures, AGU Fall Meeting Abstracts, 2008, SH44A-02
Georgoulis, M.~K. and Raouafi, N. -E. and Henney, C.~J., (2008), Automatic Active-Region Identification and Azimuth Disambiguation of the SOLIS/VSM Full-Disk Vector Magnetograms, Subsurface and Atmospheric Influences on Solar Activity, 383, 107
Norton, A.~A. and Raouafi, N. -E., (2008), The Tilted Solar Dipole: Coronal Streamer and Polar Cap Geometry Observed Near Solar Minimum, Subsurface and Atmospheric Influences on Solar Activity, 383, 405
Raouafi, N. -E. and Tripathi, D., (2008), Relationship Between CME-Associated Waves Observed on 5 March 2000, Subsurface and Atmospheric Influences on Solar Activity, 383, 421
Raouafi, N. -E. and Harvey, J.~W. and Henney, C.~J., (2008), On the Polar Field Distribution as Observed by SOLIS, Subsurface and Atmospheric Influences on Solar Activity, 383, 49
Raouafi, N. -E. and Harvey, J.~W. and Henney, C.~J., (2007), On the Latitude Distribution of the Polar Magnetic Flux as Observed by SOLIS-VSM, arXiv e-prints, arXiv:0801.0260
Raouafi, N. -E. and Harvey, J.~W. and Henney, C.~J., (2007), Latitude Distribution of Polar Magnetic Flux in the Chromosphere Near Solar Minimum, apj, 669, 1, 636-641
Tripathi, D. and Raouafi, N. -E., (2007), On the relationship between coronal waves associated with a CME on 5 March 2000, aap, 473, 3, 951-957
Raouafi, N. -E. and Harvey, J.~W. and Solanki, S.~K., (2007), Properties of Solar Polar Coronal Plumes Constrained by Ultraviolet Coronagraph Spectrometer Data, apj, 658, 1, 643-656
Arnaud, J. and Berdyugina, S.~V. and Fluri, D.~M. and Afram, N. and Solanki, S.~K. and Raouafi, N. -E., (2006), Spectro-Polarimetry of a Sunspot in Atomic and Molecular Lines with THEMIS, Solar Polarization 4, 358, 319
Raouafi, N. -E. and Solanki, S.~K., (2006), Large Temperature Anisotropies in Polar Coronal Holes: How Reliable are they?, SOHO-17. 10 Years of SOHO and Beyond, 617, 105
Raouafi, N. -E. and Solanki, S.~K., (2006), Sensitivity of solar off-limb line profiles to electron density stratification and the velocity distribution anisotropy, aap, 445, 2, 735-745
Sahal-Brechot, S. and Raouafi, N. -E., (2006), Doppler redistribution of anisotropic radiation and resonance polarization in moving scattering media. Predicted results for the coronal O,VI 1032 rA line, aap, 445, 2, 681-692
Raouafi, N. -E. and Solanki, S.~K., (2006), How reliable are the large temperature anisotropies in polar coronal holes?, Solar Activity and its Magnetic Origin, 233, 185-186
Raouafi, N. -E. and Harvey, J.~W. and Solanki, S.~K., (2006), Properties of Plasma Dynamics In The Polar Coronal Plumes, SOHO-17. 10 Years of SOHO and Beyond, 617, 16
Tripathi, D. and Raouafi, N. -E., (2006), SOHO Observations of CME-Driven Shock and EIT Waves, SOHO-17. 10 Years of SOHO and Beyond, 617, 149
Solanki, S.~K. and Raouafi, N. -E. and Gandorfer, A. and Sch"uhle, U. and Lagg, A., (2006), Solar Coronal Magnetic Field Mapper, SOHO-17. 10 Years of SOHO and Beyond, 617, 160
Raouafi, N. -E. and Harvey, J.~W. and Solanki, S.~K., (2006), Plasma dynamics in the polar coronal plumes, Solar Activity and its Magnetic Origin, 233, 193-194
Raouafi, N. -E., (2005), Measurement Methods for Chromospheric and Coronal Magnetic Fields, Chromospheric and Coronal Magnetic Fields, 596, 3.1
Raouafi, N. -E. and Mancuso, S. and Solanki, S.~K. and Inhester, B. and Mierla, M. and Stenborg, G. and Delaboudini`ere, J.~P. and Benna, C., (2005), Shock Wave Driven by an Expanding System of Loops, Coronal and Stellar Mass Ejections, 226, 127-128
Raouafi, N. -E. and Solanki, S.~K., (2004), Sensitivity of Solar Off-Limb Line Profiles to Electron Density Stratification and the Velocity Distribution Anisotropy, SOHO 15 Coronal Heating, 575, 170
Raouafi, N. -E. and Solanki, S.~K., (2004), Effect of the electron density stratification on the off-limb O VI line profiles, Multi-Wavelength Investigations of Solar Activity, 223, 481-482
Raouafi, N. -E. and Mancuso, S. and Solanki, S.~K. and Inhester, B. and Mierla, M. and Stenborg, G. and Delaboudini`ere, J.~P. and Benna, C., (2004), Shock wave driven by an expanding system of loops, aap, 424, 1039-1048
Raouafi, N. -E. and Solanki, S.~K., (2004), Effect of the electron density stratification on off-limb O VI line profiles: How large is the velocity distribution anisotropy in the solar corona?, aap, 427, 725-733
Raouafi, N. -E. and Solanki, S.~K., (2004), Effect of the Line-of-Sight Integration on the Profiles of Coronal Lines, SOHO 13 Waves, Oscillations and Small-Scale Transients Events in the Solar Atmosphere: Joint View from SOHO and TRACE, 547, 401
Raouafi, N. -E. and Mancuso, S. and Solanki, S.~K. and Inhester, B. and Benna, C. and Delaboudini`ere, J.~P. and Stenborg, G. and Mierla, M., (2004), Interpretation of the Coronal EUV Signature of the CME Event on June 27 1999, SOHO 13 Waves, Oscillations and Small-Scale Transients Events in the Solar Atmosphere: Joint View from SOHO and TRACE, 547, 317
Raouafi, N. -E. and Solanki, S.~K., (2003), Effect of anisotropic velocity distribution on the linear polarization of coronal lines. Does the ion cyclotron exist in the inner corona?, aap, 412, 271-280
Raymond, J.~C. and Ciaravella, A. and Dobrzycka, D. and Strachan, L. and Ko, Y. -K. and Uzzo, M. and Raouafi, Nour-Eddine, (2003), Far-Ultraviolet Spectra of Fast Coronal Mass Ejections Associated with X-Class Flares, apj, 597, 2, 1106-1117
Arnaud, J. and Faurobert, M. and Raouafi, N. -E. and Solanki, S.~K., (2003), Molecular lines observations with THEMIS, SF2A-2003: Semaine de l'Astrophysique Francaise, 111
Raouafi, N. -E., (2003), Does the ion cyclotron exist in the inner corona?, Astronomische Nachrichten, 324, 4, 341-343
Lagg, Andreas and Woch, Joachim and Solanki, Sami K. and Mathew, Shibu and Borrero, Juan M. and Krupp, N. and Raouafi, N.~E., (2003), Infrared Polarimetry at the MPAe: The Solar Atmosphere from the Photosphere to the Upper Chromosphere, Astronomische Nachrichten Supplement, 324, 3, 29
Raouafi, N. -E. and Lemaire, P. and Sahal-Brechot, S., (2002), Effect of the coronal magnetic field and the solar wind velocity field vectors on the polarization of the O VI ensuremathlambda1032 line, From Solar Min to Max: Half a Solar Cycle with SOHO, 508, 403-406
Raouafi, N. -E., (2002), Erratum: Stokes parameters of resonance lines scattered by a moving, magnetic medium. Theory of the two-level atom, aap, 394, 747
Raouafi, N. -E., (2002), Stokes parameters of resonance lines scattered by a moving, magnetic medium. Theory of the two-level atom, aap, 386, 721-731
Raouafi, N. -E. and Sahal-Brechot, S. and Lemaire, P. and Bommier, V., (2002), Linear polarization of the O VI lambda 1031.92 coronal line. I. Constraints on the solar wind velocity field vector in the polar holes, aap, 390, 691-706
Raouafi, N. -E. and Sahal-Brechot, S. and Lemaire, P., (2002), Effect of the solar wind velocity field vector on the polarization of the O VI ensuremathlambda1032 coronal line, From Solar Min to Max: Half a Solar Cycle with SOHO, 508, 471-474
Raouafi, N. -E. and Sahal-Brechot, S. and Lemaire, P., (2002), Linear polarization of the O VI lambda 1031.92 coronal line. II. Constraints on the magnetic field and the solar wind velocity field vectors in the coronal polar holes, aap, 396, 1019-1028
RAOUAFI, N. and Mancuso, S. and Benna, C., (2001), Properties and Modeling of a CME-driven Shock out of the Plane of the sky Through UVCS/SoHO Observations, AGU Fall Meeting Abstracts, 2001, SH41B-0749
Raouafi, Nour-Eddine, (2001), Dissertation Abstract, African Skies, 6, 32
Raouafi, N. -E. and Sahal-Brechot, S. and Lemaire, P., (1999), On VI 1031.95 rA Line Polarization Measurements in View of Velocity Field and Magnetic Field Diagnostics in the Inner Solar Corona: Effect of the Polar Hole, Magnetic Fields and Solar Processes, 9, 1205
Raouafi, N. -E. and Lemaire, P. and Sahal-Brechot, S., (1999), On VI 103.2 A Line Polarization Measurements In View Of Velocity Field And Magnetic Field Diagnostics In The Inner Solar Corona, 8th SOHO Workshop: Plasma Dynamics and Diagnostics in the Solar Transition Region and Corona, 446, 567
Raouafi, N. -E. and Sahal-Brechot, S. and Lemaire, P. and Bommier, V., (1999), Doppler redistribution of resonance polarization of the O VI 103. 2 nm line observed above a polar hole, Polarization, 243, 349-362
Raouafi, N. -E. and Lemaire, P. and Sahal-Brechot, S., (1999), Detection of the O VI 103.2 NM line polarization by the SUMER spectrometer on the SOHO spacecraft, aap, 345, 999-1005